Earsay has done so much for me and been there in the background throughout my whole life. When I was 4 months old, I met a hearing girl whose Mum is deaf at my first Earsay Summer party.
Lila would later become my best friend. I speak with her and sign with her Mum. Earsay has given me a peer group but also equipment to help me access hobbies outside school, funding to assist with specialist holidays and so much more. Let me go into more detail…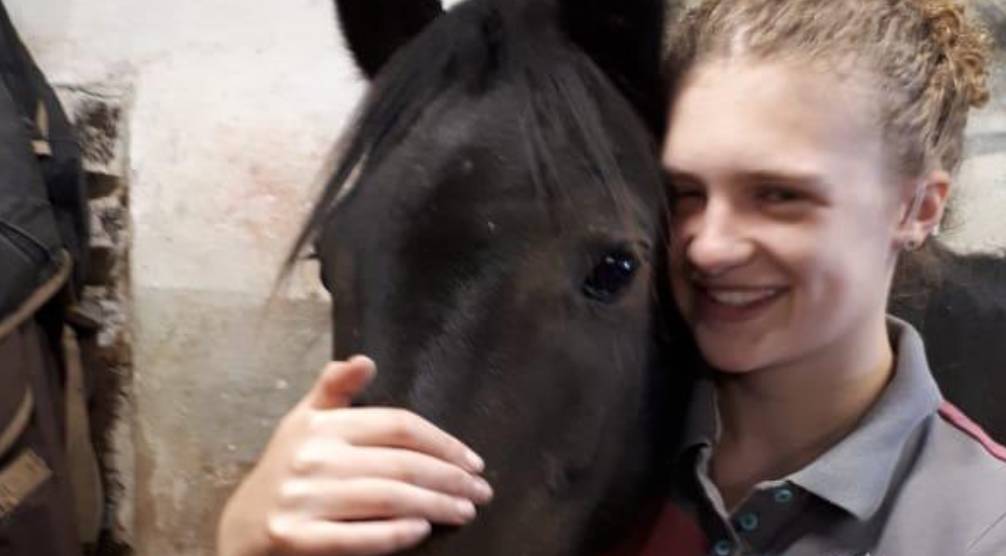 Earsay has given me equipment to help me access hobbies
When I was born profoundly deaf on 29th March 2006, I was the first child to be picked up by the newborn screening programme. My Mum was really terrified for my future. My parents had never met a deaf person before and held all the stereotypical prejudices about deaf people from a hearing person's view. But they needn't have been nervous. Earsay came to the rescue. They showed mum and dad that deaf kids are absolutely normal; they just can't hear. Mum and Dad had to think about what I COULD do, not what I couldn't. Anything was possible. I was given bilateral cochlear implants when I was 19 months old (the first person at St Thomas's in London to receive bilaterals) and started signing long before I could speak, appearing in an NDCS video about family signing when I was three. I began attending St Clement's primary school, which has the hearing unit (or ARC), when I was nearly four and received tremendous support from them. Fast forward and I am currently in year 10 at Le Rocquier, which has the secondary hearing unit (ARC). I will sit my GCSEs next year and hope to achieve at least two nines. Not bad for someone whose Mum was worried she would never read or write!
I am lucky that I get all the equipment I need at school through the States of Jersey but Earsay has been really generous with providing other things which help me enjoy my hobbies. When I was learning to swim, they gave me waterproofing equipment for my hearing aids. I also have a Roger pen, which is a special radio aid, to help with ballet and riding. My implants require special receivers to work with the Roger System, and Earsay helped with these too. Specialist hearing equipment is really expensive so it has helped Mum and Dad out a lot.
DEAF COMMUNITY AND FRIENDSHIPS
From when I was a baby to now, I have always known that I have a support network through the community of people I've met through Earsay. Some I haven't got on with, regretfully, but some have become friends for life; people I know I can trust and rely on, like my best friend Lila. There have also been adults who have given me valuable life skills and tips to help me in the future. Furthermore, Earsay has been beneficial in showing me that I am not alone, there are other deaf people out there.
Earsay has also been instrumental in giving me monumental life experiences.
When I was four, my Mum, Dad, baby sister, grandma and I went on an Ear Foundation information weekend at Center Parcs in Sherwood Forest, partly funded by Earsay. The Ear Foundation was a charity specifically for children with cochlear implants. I don't remember much, because I was very young, but I do very vividly remember running away from the climbing wall and running to the lecture room, bursting in on the middle of some sort of talk to do with deafness and hiding under my grandma's chair so that I didn't have to go on the climbing wall. While this is the only thing I remember (I still do not like climbing walls), my parents say that it is after this weekend that my behaviour really improved. I'd been really awkward up to then! I suppose I'd met lots of children like me and although, in those days, I didn't get involved much, I must have been taking it all in.
Later on, when I was twelve, I attended the European Friendship Week (EFW) at St. John's Catholic School for the Deaf in Leeds. On this extremely oversubscribed holiday, I met many deaf and implanted under 21's from all over Europe. I am still in contact with friends from London, Estonia, France, Romania, Italy and Spain. My favourite memory is of hiking up a 24 mile mountain and having lunch at the top while feeling like a bird. Another memory is staying up past 2 o'clock with another best friend to this day, Freya, eating sweets and reading Glamour Magazine. Needless to say, we were very tired when we had to get up at 6am the next day.
I have been really lucky in so many ways. So now, to say thank you, I help with the signing choir and go in the Swimarathon team each year. I try to be a role model for the younger children because I know what it's like. Things could have been quite different without Earsay.
Written by Heather, when she was 14 years old